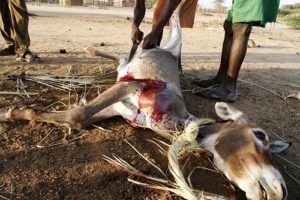 A Bill prohibiting the intentional killing and exportation of donkeys or its carcasses[1] out of Nigeria has passed second reading in the House of Representatives. This came as lawmakers were convinced of the need to enact legislation that would prevent the animals from going extinct and in light of the aesthetic, ecological and historical values that the creatures personify.
Under the Bill a ten-year imprisonment sentence[2] is imposed on persons who kill, knowingly ship, transport, move, deliver, receive, possess, sell, or donate a donkey to be slaughtered either for human consumption or as food to other animals. There is however an exception enabling the disposal of a donkey's carcass lying in a public place, for public health reasons[3]. The Bill also gives wide powers to the Federal Government to take ownership of "any vehicle, vessel, aircraft or other thing whatsoever used in connection …with the slaughtering and killing of the donkey[4]".
In addition to the conservation efforts earlier highlighted, it appears that the Bill seeks to respond to economical concerns that large-scale donkey exports to China have contributed to its rising prices- which have become increasingly out of reach to some rural communities in Northern Nigeria who use the animal as a means of transportation. While there is no similar version in the Senate, it is noteworthy that other African countries like Botswana, Senegal, Mali, Burkina Faso and Gambia[5] have also taken to legislation to keep their donkey populations at sustainable levels.
[1] Clause 2 Donkey Export and Killing (Prohibition) Bill, 2018
[2] Clause 4(1) Donkey Export and Killing (Prohibition) Bill, 2018
[3] Clause 3 Donkey Export and Killing (Prohibition) Bill, 2018
[4] Clause 4(3) Donkey Export and Killing (Prohibition) Bill, 2018
[5] https://punchng.com/bill-to-prohibit-killing-exportation-of-donkey-passes-second-reading/