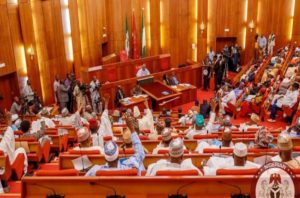 The Senate has announced a change in the leadership of 4 of its Committees. Sen. Tijani Kaura is now Chairman, Committee on Police Affairs while Senators Abu Ibrahim, Abdullahi Gumel and Ali Ndume hold similar portfolios in the Committees on Labour and Productivity, Federal Character, Establishment and Public Service respectively.
In what might be a major shakeup, the change in the leadership of the Committee on Police Affairs appears to be driven by promises of police reforms by the Senate in addition to advocacy efforts by civil society groups for a modern Nigeria Police Act that meets international best practices and its operational demands. It also comes at the heart of the crisis between the Inspector General of Police (IGP) and the Police Service Commission over the appointment, promotion and discipline of police officers.
Yet, there are strong arguments that a review of the Police Act will improve the quality of policing and assist the body deliver on its core responsibility of providing security infrastructure.
In light of this, the Policy and Legal Advocacy Centre (PLAC) is currently working with the National Assembly to achieve reforms and push for a legal framework that enables the Nigeria Police Force carry out its duties. As one of its major activities, the Policy and Legal Advocacy Centre (PLAC) organised meetings with the National Assembly, the Nigeria Police Force Civil Society Groups and other stakeholders on 19th and 20th November 2018 focused on proposed amendments to the Police Bill and strategies for legislative engagement. PLAC was also in attendance at the Management Retreat of the Police Service Commission held in Enugu State on Nov.19th, which it utilised to entreat the Police Service Commission to join efforts in the reform process to build a Police Force that Nigeria will be proud of.
PLAC is optimistic that the 8th Senate will follow through its commitment and expectations from the Nigeria Police and citizens to hold public hearing on the Bill to pass a more effective Police that can deliver on its mandate.