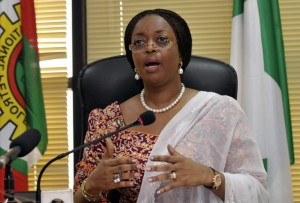 The recent crisis in March between the Minister of Petroleum Resources and the House of Representatives over allegations that the former chartered a private jet for over ten billion naira appears attained a different dimension when the Minister of Petroleum sought to prevent the House of Representatives from compelling her attendance as well as the attendance of any official from the Ministry of Petroleum Resources and the Nigerian National Petroleum Corporation (NNPC) by a Court order.
It will be recalled that over two weeks ago the Public Accounts Committee had directed the Minister of Petroleum as well as the Group Director of NNPC, Mr Andrew Yakubu to submit a memo to explain the allegations over the charter of the private jet, Challenger 850 for two years at a cost N10 Billion as well as two other private jets which include a Global Express XRS that is purported to have cost 600,000 euros in a return charter trip to London. The Chairman of the Public Accounts Committee, Hon. Solomon Olamilekan had further asked the Minister to pin point a law that permitted a Minister to travel overseas using chartered jets.
While some critics have pointed to her action of requesting the Federal High Court to prevent her from being compelled to appear before the National Assembly and its Committees as indicative of her guilt in the allegations, others have pointed out to the Minister's misunderstanding of Parliament in its role of oversight under the doctrine of checks and balances.
For instance, section 88(1) of the 1999 Constitution (as Revised) empowers the House of Representatives and the Senate to investigate the conduct of affairs of any person, authority, ministry or government department as well as imposing a duty to "expose corruption, inefficiency or waste" in the disbursements or appropriation of funds as highlighted by Honourable Samuel Babatunde Adejare. Similarly, section 89 of the Constitution empowers the House to summon any person in Nigeria for the purpose of carrying out its investigations. Consequently, the Courts had rightly rejected her application.
This is not the first time that the Courts have been dragged into a debate with the House of Representatives as earlier this year, the People's Democratic Party had asked the Court to prevent the 42 defected lawmakers from altering the leadership of the principal officers of the House.